Creating a funeral or memorial ceremony that honors and respects your Loved One during your time of grief and loss can be an overwhelming task.  Time seems to stand still and thought comes in waves as you process what the loss of this life means to you and to others around you. Some come to the threshold of this transition prepared with ideas and actions that affirm the essence of life, while others may be too confused or overwhelmed by grief to know what path to take.  Stacy Mitchell is here to serve you and your family during this time.  Her beliefs are immaterial to the process of creating your ceremony which is based upon the beliefs and values of the honoree and others involved.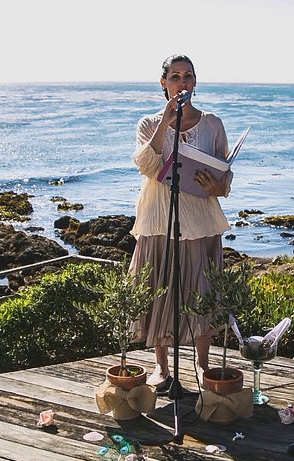 Generally a Funeral Service must be planned in less than 72 hours (3 days) and a Celebrant planned Ceremony consists of a minimum of 20 hours of interviews, research, and writing.  Please contact the Celebrant as quickly as possible during your time of need to ensure availability and enough time for planning.  For a memorial service there may be more time between the actual death of your Loved One and the scheduled service, however, it is still important that you contact the Celebrant as soon as you know of your need for the memorial.
Life-Cycle Celebrant® Stacy Mitchell provides ceremonies that are secular in nature, as well as ceremonies that weave together the beliefs and values of those involved based on the information you provide and client preferences.  Stacy is also happy to discuss with you the pre-planning of your own services for those who would like to ensure they receive the funeral or memorial ceremony they desire without burdening their surviving Loved Ones with these decisions at the time of loss. 



Who does a Celebrant serve? Hear the answer from Stacy in this short video
Keep scrolling for more info…
Stacy is a proud member of the National Home Funeral Alliance (NHFA) and is pleased to have attended the 2015 NHFA Conference in Los Gatos,CA.  Stacy is an advocate for family directed funerals, home funerals, and green burial options. 
Please feel free to connect with her about these issues  She is happy to serve as a Celebrant or an End-of-Life Guide (Death Midwife/Doula) for anyone who is looking to experience a conscious death or to help guide families on how to carry out a home vigil or funeral.  You can watch the video below for more information on these services.
Stacy is also available as a public speaker to present information to groups or organizations on these subjects.
Funeral / Memorial Service

$500 - $800
In this video Stacy shares what it means when she says that her beliefs are immaterial to the process of creating your ceremony. (clip from a longer video QandA)
In this video Stacy talks about the NHFA and the types of End-of-Life Services she offers beyond the typical ceremony officiant aspect of her work.